Next
Box Tunnel

Description:
Box Tunnel is the classic cover for vehicles. It is the ideal solution for those who have LITTLE SPACE and would like to employ it to its full potential. Once closed, in fact, the overall dimension is minimal.
Suggested for:
Box Tunnel is the most versatile cover in the product range. It can be adjusted to many uses, even though it is born to cover cars.
Its measures provide optimum cover for cars of any size, but also enables you to use it as storage for equipment and machinery or as a connecting tunnel.
Choose your Box Tunnel:
Box Tunnel is available in 2 versions:
base: the cheaper model, after installation the structure cannot be quickly closed on itself
mobile: equipped with wheels to let the structure scroll on the ground and tension bars to lock quickly the structure in its open position
Technical Sheet
STANDARD EQUIPMENT
The standard supply includes:
Arched aluminium profiles 40 x 35 mm, colour silver
Galvanized and lacquered RAL 9006 steel crosses, cm 120 x 120, with screws and slides
PVC top cover, 550 g/m² flame retardant cl. 2, standard width 103 cm
PVC wall with window in micro-perforated material
PVC sliding curtain with straps
Aluminium crossbeam for the sliding curtain with slides and angles
PVC gable end with window of micro-perforated material
BASE VERSION:
Galvanized steel ground-fixing brackets
MOBILE VERSION:
2 Metal ground-fixing brackets
Lacquered RAL9006 steel tension bars with screws
Nylon wheels with screws, diameter mm 100
Stretching devices (only for tunnels with a modules width lower than 103 cm)
Internal belt ratchets. NB. Pegs with eyelet not included (diam. eyelet hole 12 mm)
OPTIONALS:
Solid rubber wheels diam. mm 260
Steel wheels with angle and floor rails
Stretching devices (only for base version)
Small impeller kit
Transparent PVC Cristal window
Sliding curtain kit
Available Sizes
A
B
C
D
412 / 515 / 618 / 721 / 824
250
185
215
280
185
215
280
195
230
300
195
230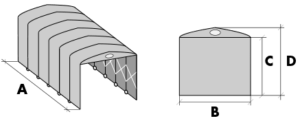 PVC Types and Colours
Installation manual
USER'S MANUAL DOWNLOAD
The following instructions for INSTALLATION, USE AND MAINTENANCE of the box, are part of the standard equipment for each box, and we strongly recommend to read them carefully to understand how to use the structure and its maintenance. It is important to respect the limits imposed by the operating manual and the rules for proper maintenance. This will enable you to act safely and maintain your Box Tunnel in a good way over time.