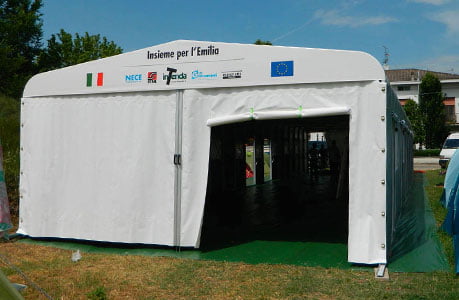 TEMPORARY HOUSE MEDOLLA 1
On the 8th of June 2012, after different visits to our dealers and suppliers, our workers, led by Gianfranco Creston, went to Medolla to install a 20×6 meter structure, which was thought for those who lost everything during the earthquake and need a temporary house to live. We decided to install the structure on a lawn in front of the company Marchetti Tendaggi, which has done so much to help its people. Unity is strenght! Together with other companies we were able to give a little hope to the Emilians.
THEY CONTRIBUTED TO THIS PROJECT
Video and photographs of the intervention
PRESS REVIEW
Molti media stanno parlando di questa iniziativa promossa da Intenda e sostenuta da alcune aziende della zona. Questi sono alcuni riferimenti agli articoli pubblicati. Seguiranno ulteriori aggiornamenti.