Next
Cargo Box

Description:
Thanks to the new profiles and the new assembling system, Cargo Box can reach a width of 12 meters and a side height of 5 meters. It has no length limits, since the modules of 105 cm each can be combined to reach the desired length.
Suggested for:
Cargo Box can reach very BIG DIMENSIONS, so it can be used as a proper WAREHOUSE, allowing to stock a big quantity of goods and also LODGE SOME MANUFACTURING PROCESSES.
Choose your Cargo Box:
Cargo Box is only available in the mobile version, equipped with nylon wheels and anti-lift floor rails.
Technical Sheet
STANDARD EQUIPMENT
The standard supply includes:
Arched aluminium profiles mm 100 x 60, colour silver
Aluminium oval shaped crosses 200 x 200 cm with screws and slides
PVC top cover Qualiplan2 670 g/m², standard width 105 cm
2 PVC sliding curtains complete with side hooks and elastic for zig-zag closure
2 Aluminium crossbeams for sliding curtains
2 PVC gable ends with windows in micro-perforated material
Reinforcement flanges made of galvanized steel
Steel reinforcement ropes complete with stretching devices
Extruded aluminium stretching devices
2 Galvanized steel brackets for ground fixation
Anti-lift rails made of galvanized steel complete with nylon wheels with anchor
Solid rubber tires are also available for some box sizes; their price will be communicated on request.
Available Sizes
CARGO BOX (Cm)
A
B
D
315 / 420 / 525 / 630
735 / 840 / 945 / 1050
from 500 to 1200
350 / 400 / 450 / 500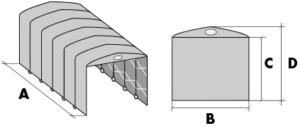 The box is composed by modules of cm 105 each, so there are no lengths limits.
This model is delivered partly pre-assembled.
PVC Types and Colours
| Yellow | Cream | Red | Green | Blue | Grey | Black | White |
| --- | --- | --- | --- | --- | --- | --- | --- |
| | | | | | | | |
Installation manual
USER'S MANUAL DOWNLOAD
The following instructions for INSTALLATION, USE AND MAINTENANCE of the box, are part of the standard equipment for each box, and we strongly recommend to read them carefully to understand how to use the structure and its maintenance. It is important to respect the limits imposed by the operating manual and the rules for proper maintenance. This will enable you to act safely and maintain your Cargo Box in a good way over time.