Next
Kit Box Serra

Description:
Kit Box Serra is the product designed to lodge plants and flowers, but also to store tools and machineries. Thanks to its transparent tarpaulins, the sunbeams can easily cross the cover and then warm up the setting. On request, the standard top cover can be replaced with mimetic PVC.
Suggested for:
Kit Box Serra is a suitable cover for those who need to protect their plants and flowers during the winter months, but is also suitable to store tools and more.
Technical Sheet
STANDARD EQUIPMENT
The standard supply includes:
Arched aluminium profiles 40 x 35 mm with joints, colour silver
Galvanized and lacquered RAL 9006 steel crosses, cm 160 x 160, with screws and slides
Top cover in transparent PVC film with internal reinforcement mesh Coverjolly
2 Coverjolly sliding curtains with iron hooks and elastic rope
2 Coverjolly gable ends without window in micro-perforated material
2 aluminium crossbeams for the sliding curtain with slides and angles
Plank for the roof tensioning
Metal ground-fixing brackets
The standard equipment includes 2 stretching devices to be used during the installation operations
Available Sizes
KIT BOX SERRA (Cm)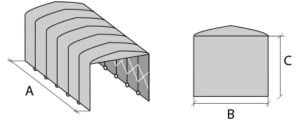 PVC Types and Colours
Vinitex

Installation manual
USER'S MANUAL DOWNLOAD
The following instruction manual for the assembly, use and maintenance of the box is an integral part of the standard equipment of each box, and it is compulsory to read it in its entirety in order to understand the rules for the correct use of the structure and its maintenance. It is essential to comply with the limits imposed by the manual and the rules for correct maintenance. This will allow you to always operate safely and preserve your Kit Box Serra over time.