Next
Maxi Box

Description:
Maxi Box is ideal for covering LARGE VEHICLES or TRUCKS up to 3.2 m heigh. Like the other extensible tunnels of the range, it is the perfect cover against bad weather (sun, rain, hail) and can be closed in a few moments, despite the considerable size.
Suggested for:
Thanks to its big dimensions, Maxi Box can be used for different purposes: as a cover for small trucks and vans, as a small WAREHOUSE or for STORAGE.
Choose your Maxi Box:
Maxi Box is available in 2 versions:
base: cheaper model, after installation the structure cannot be packed up quickly
mobile: equipped with wheels to let the structure scroll on the ground and tension bars to lock quickly the structure in its open position
Technical Sheet
STANDARD EQUIPMENT
The standard supply includes:
Arched aluminium profiles mm 60 x 40, colour silver
Galvanized and lacquered RAL 9006 steel crosses cm 120 x 120, with screws and slides, coupled in height
PVC top cover, 550 g/m² flame retardant cl. 2, standard width 103 cm
2 PVC sliding curtains with zink-coated iron hooks and elastic rope for zig-zag closure
2 Aluminium crossbeams for the sliding curtain with slides and angles
2 PVC gable ends with windows in micro-perforated material SOLTIS 92
Starting from the width of cm 500, the structure will be reinforced with aluminium crossbeams and other reinforcement elements on every profile. The sliding curtain will be equipped with steel rail and sliding trolleys.
BASE VERSION
Galvanized steel ground-fixing brackets
MOBILE VERSION
2 Metal ground-fixing brackets
Lacquered RAL 9006 steel tension bars with screws
Nylon wheels with screws, mm 200
Stretching devices (only for tunnels with a module width lower than cm 103)
Internal belt ratchets NB. Pegs with eyelet not included (diam. eyelet hole 12 mm.)
OPTIONALS:
Solid rubber weels diam. mm 260
Steel wheels with angle and floor rails
Stretching devices (only for base version)
Big impeller kit
Transparent PVC Cristal window
Additional window in micro-perforated material
Available Sizes
MAXI BOX (Cm)
A
B
C
D
515 / 618 / 721 / 824
400
320
371
500
320
376
600
320
386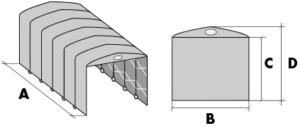 The box is composed by modules of cm 103 each, so there are no lengths limits.
This model is delivered partly pre-assembled.
PVC Types and Colours
Installation manual
USER'S MANUAL DOWNLOAD
The following instructions for INSTALLATION, USE AND MAINTENANCE of the box, are part of the standard equipment for each box, and we strongly recommend to read them carefully to understand how to use the structure and its maintenance. It is important to respect the limits imposed by the operating manual and the rules for proper maintenance. This will enable you to act safely and maintain your Maxi Box in a good way over time.